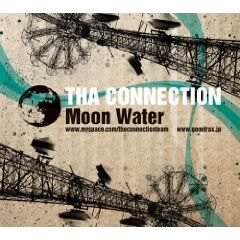 Upon the first listen of this LP, my first thoughts were "

Damn who are these guys? Wow

. I need more of their music.." This seems to be universal for heads finding this group, an obscure duo

of

Hus Tha KingPin and SmooVth Dude

from Lo

ng Island, NY.
You may not have guessed, but

Tha Connection

is one of the best hiphop groups out that you haven't heard of yet. They've recruited an array of producers (Vans Cal, 12bit, Elaquent, DJ Kryptonite, Max I Million to name a few) to enhance their melodic sound, and it pays off with what is most likely the best album of 2008.

This very listenable and laid-back album starts out with "Take It Higher". After the atmospheric beginning, the vocals and drums hit together and make your head nod instantly. From here, "Cold Soul" brings you into a good-times, almost party vibe that leaves you smiling from the smoothness. At this point I knew I'd be cracked out on

Moon Water

for awhile.

My favorite track, "Hibernation (Remix)" hits slow but steady, with dope lyrics and one of the sickest jazzy beats I've heard in a bit. Track four, "Blacklight" is a slow, trippy midnight tune that'll have you lighting up incense and getting your mind right under your own blacklight.

Other strong tracks include "Drumstick (Remix)", "Realness", and "Classic (Feat. Kush Foreal)", a great song bringing solid vocals, saxophones, and piano samples together for another winner featuring a dope Swedish artist as well. Not very often will you get all those on one track.

Overall this album is strong from start to finish. Every track is very listenable, and damn it's nice to throw on a CD and not have to hit the skip button a bunch of times. Get your dough together to purchase their new LP "Love Royale" when it drops May 4. In the meantime, check out a few of their free releases, Connect (2007) and Food EP (2008)



Rating

: 9.5/10


Favorite Line

: "Listen, big money will change the way you think / So you gotta know more or your head kinks / Read a book, stop watchin what the next man do / And be yourself, change the game don't let the game change you" from the track "

Blacklight

"


Author's Notes

: Quickly became one of the best albums I've ever heard and have had it on repeat ever since. Don't sleep!